Waking up with the view on the snow-covered Kaiser Massif, enjoying a savoury breakfast and finishing of the first cross-country skiing training-session of the day in the morning sun. This is exactly what 20 sports-mad participants of the second A|N Wintercamp Walchsee experienced in their three day training camp, whilst learning new skiing skills and enjoying fat bike guided tours and intensive swim sessions.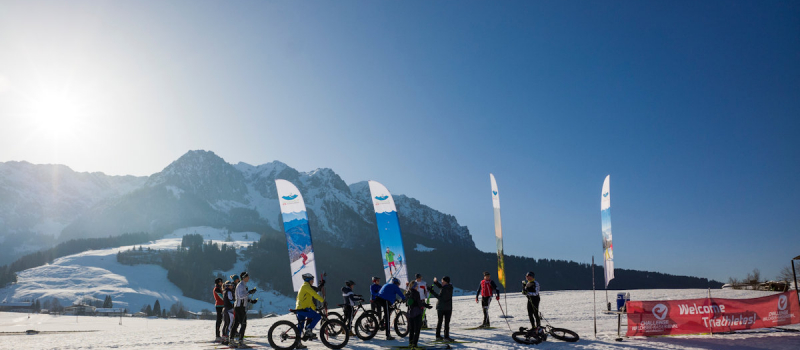 Early morning running combined with stretching and coordination workouts, paved the way for the main cross-country skating technique training, to help the athletes to build on their basic endurance and prepare them for their triathlon season. "It was good to do some technical training at first to get a good feeling for the skis and doing a longer loop for the endurance training afterwards", said participant Tobias Dargatz.
And also Andreas Klingler, Race Director of CHALLENGEKAISERWINKL-WALCHSEE and host of the Wintercamp was really happy with the first edition of the event and explained the motivation behind it: "We want to attract people to the Kaiserwinkl region. It´s an excellent all-year destination for triathletes. Whether you prefer cross-country or alpine skiing, Kaiserwinkl has all the facilities and most of all, you can bring your whole family and have a lot of fun!" In addition, the participants received valuable insights into an effective training concept from triathlete Mathias Flunger, former biathlon professional Dr. Florian Paternoster and cross-country skiing professional Thomas Freimuth from ausdauernetzwerk.de. The athletes left the camp reminiscing on many new sporting experiences with new knowledge about a sustainable training approach and amazing impressions from the breathtaking backdrop of the Kaiser-Massif, to where many of them will be returning when they take part in CHALLENGEKAISERWINKL-WALCHSEE in June this year.